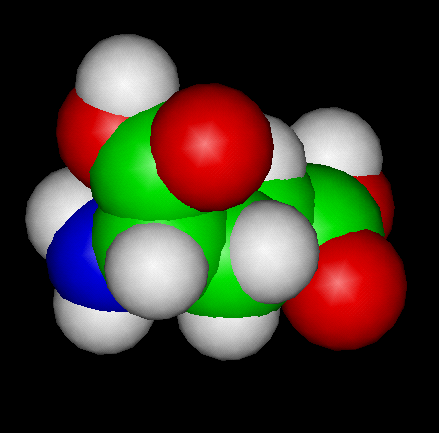 The Glutamic Acid Molecule
Symbol: Glu E
Molecular Weight: 147.13
Isolectric point (pH) 3.22
Molecular Formula: C 5H9NO4
To View the Glutamic Acid Molecule in 3D --->>in 3D with Jsmol
Chemical and Physical Properties of Glutamic Acid
Glutamic acid or glutamate is one of the 20 most common natural amino acids. As its name indicates, it is acidic, with a carboxylic acid component to its side chain.
The side chain carboxylic acid functional group of the glutamic acid molecule has a pKa of 4.1 and therefore exists almost entirely in its negatively charged deprotonated carboxylate form at pH values greater than 4.1; therefore, it is negatively charged at physiological pH ranging from 7.35 to 7.45.
In neuroscience, carboxylate anion glutamate is an important excitatory neurotransmitter that plays the principal role in neural activation
The Glutamic acid molecule (abbreviated as Glu or E; encoded by the codons GAA or GAG) is an α-amino acid that is used in the biosynthesis of proteins. It contains an α-amino group (which is in the protonated −NH3+ form under biological conditions), an α-carboxylic acid group (which is in the deprotonated −CO2− form under biological conditions), and a side chain carboxylic acid, classifying it as a polar negatively charged (at physiological pH), aliphatic amino acid. It is non-essential in humans, meaning the body can synthesize it.
Glutamic acid is critical for proper cell function, but it is not considered an essential nutrient in humans because the body can manufacture it from simpler compounds. In addition to being one of the building blocks in protein synthesis, it is also important in rain function, as an excitatory neurotransmitter and as a precursor for the synthesis of GABA in GABAergic neurons. Glutamate activates both ionotropic and metabotropic glutamate receptors. The ionotropic ones being non-NMDA (AMPA and kainate) and NMDA receptors. Free glutamic acid cannot cross the blood-brain barrier in appreciable quantities; instead it is converted into L-glutamine, which the brain uses for fuel and protein synthesis.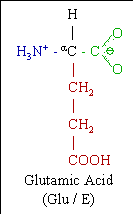 Glutamic Acid Molecular Structure
The sodium salt of glutamic acid, monosodium glutamate (MSG) is responsible for one of the five basic tastes of the human sense of taste (umami), and MSG is extensively used as a food additive.