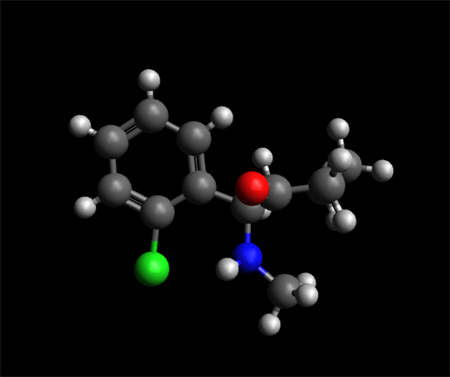 Ball and Stick Model for Molecule - Esketamine Molecule
To View the Esketamine Molecule in 3D --->>in 3D with Jsmol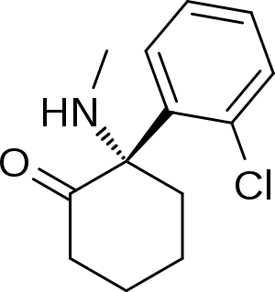 Esketamine Molecular Structure
Esketamine, sold under the brand names Ketanest and Spravato, among others, is a medication used as a general anesthetic and for treatment-resistant depression. Esketamine is used as a nasal spray or by injection into a vein.
Esketamine acts primarily as a non-competitive N-methyl-D-aspartate (NMDA) receptor antagonist. It also acts to some extent as a dopamine reuptake inhibitor but, unlike ketamine, does not interact with the sigma receptors. The compound is the S(+) enantiomer of ketamine, which is an anesthetic and dissociative similarly. It is unknown whether its antidepressant action is superior, inferior or equal to racemic ketamine and its opposite enantiomer, arketamine, which are both being investigated for the treatment of depression.
Esketamine was introduced for medical use as an anesthetic in Germany in 1997, and was subsequently marketed in other countries. In addition to its anesthetic effects, the medication showed properties of being a rapid-acting antidepressant, and was subsequently investigated for use as such. In November 2017, it completed phase III clinical trials for treatment-resistant depression in the United States. Johnson & Johnson filed a Food and Drug Administration (FDA) New Drug Application (NDA) for approval on September 4, 2018; the application was endorsed by an FDA advisory panel on February 12, 2019, and on March 5, 2019, the FDA approved esketamine, in conjunction with an oral antidepressant, for the treatment of depression in adults.
In 2019, it was approved for use with other antidepressants, for the treatment of depression in adults in the United States. The cost of the nasal spray as of 2019 will be 4,700 USD to 6,800 USD for the first month.
Use as a general anesthetic
Esketamine is a general anesthetic and is used for similar indications as ketamine. Such uses include induction of anesthesia in high-risk patients such as those with hemorrhagic shock, anaphylactic shock, septic shock, severe bronchospasm, severe hepatic insufficiency, cardiac tamponade, and constrictive pericarditis; anesthesia in caesarian section; use of multiple anesthetics in burns; and as a supplement to regional anesthesia with incomplete nerve blocks.
Use as an anti-depressant
Similarly to ketamine, esketamine appears to be a rapid-acting antidepressant. It received a breakthrough designation from the FDA for treatment-resistant depression (TRD) in 2013 and major depressive disorder (MDD) with accompanying suicidal ideation in 2016.
In February 2019, an outside panel of experts recommended that the FDA approve the nasal spray version of esketamine, provided that it be administered in a clinical setting, with patients remaining on site for at least two hours after administration. The reasoning for this requirement is that drug trial participants temporarily experienced sedation, visual disturbances, trouble speaking, confusion, numbness, and feelings of dizziness/faintness during the period immediately after administration.
From Am J Psychiatry. 2019
Abstract: Efficacy and Safety of Flexibly Dosed Esketamine Nasal Spray Combined With a Newly Initiated Oral Antidepressant in Treatment-Resistant Depression: A Randomized Double-Blind Active-Controlled Study.
Objective: About one-third of patients with depression fail to achieve remission despite treatment with multiple antidepressants. This study compared the efficacy and safety of switching patients with treatment-resistant depression from an ineffective antidepressant to flexibly dosed esketamine nasal spray plus a newly initiated antidepressant or to a newly initiated antidepressant (active comparator) plus placebo nasal spray.
Conclusions: Current treatment options for treatment-resistant depression have considerable limitations in terms of efficacy and patient acceptability. Esketamine is expected to address an unmet medical need in this population through its novel mechanism of action and rapid onset of antidepressant efficacy. The study supports the efficacy and safety of esketamine nasal spray as a rapidly acting antidepressant for patients with treatment-resistant depression. See full absract
From Johnson & Johnson News Release
Esketamine Receives Breakthrough Therapy Designation from U.S. Food and Drug Administration for Major Depressive Disorder with Imminent Risk for Suicide
FDA action marks second Breakthrough Therapy Designation for intranasal esketamine, highlighting its potential as treatment for patients with major depressive disorder who are at imminent risk for suicide and for those with treatment-resistant depression. Read full article.