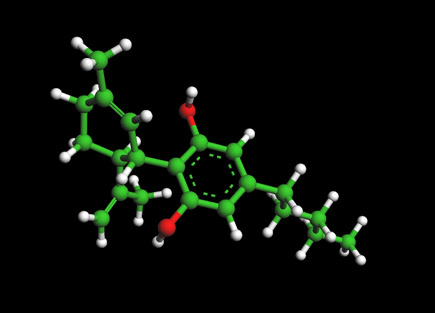 Ball and Stick Model for Cannabidiol Molecule
To View the CBD Molecule in 3D --->>in 3D with Jsmol
Overview
Cannabidiol (CBD) is a naturally occurring cannabinoid component of cannabis. It is one of at least 113 cannabinoids identified in hemp plants. While delta-9-tetrahydrocannabinol (THC) is the major active ingredient, cannabidiol (CBD) can make up about 40% of cannabis extracts depending on the plant. CBD has been studied for many different uses (see below). Depending on the species the ratio of THC: CBD will vary. It is widely accepted that marijuana has two main species: Cannabis indica and Cannabis sativa (3). Generally it was considered that pure sativa has a higher ratio of THC:CBD making it more psychoactive. However crossbreeding of indica and sativa strains has led to such a wide variety of hybrid strains that making THC:CBD difficult to associate with either indica or sativa.
As of 2018 in the United States, Food and Drug Administration approval of cannabidiol as a prescription drug called Epidiolex for medical uses has been limited to two rare forms of childhood epilepsy (1).
CBD does not cause intoxication or euphoria (the "high") that comes from tetrahydrocannabinol (THC). It is THC (and not CBD) that is the primary psychoactive component of marijuana.
Chemical and Physical Properties of the Cannabidiol (CBD) Molecule
Cannabidiol is insoluble in water but soluble in organic solvents such as pentane or hexane. At room temperature, it is a colorless crystalline solid. In strongly basic media and the presence of air, it is oxidized to a quinone. Under acidic conditions it cyclizes to THC (2). The synthesis of cannabidiol has been accomplished by several research groups.(2, 2b)
Formula: C21H30O2
Molecular weight: 314.4617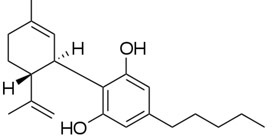 Pharmacological Profile and Mechanism of action - CBD
Although THC and endocannibnoids (produced in the body) activate the CB1 and CB2 receptors (G protein-coupled receptors), CBD does not directly stimulate these receptors. CBD instead displays an unexpectedly high potency as an 'antagonist' of CB1/CB2 receptor in CB1- and CB2-expressing cells, the manner with which it interacts with CB2 receptors providing a possible explanation for its ability to inhibit evoked immune cell migration.(3) Acting as an antagonist for CB1/CB2 suggests that CBD can block some of the psychoactive action of THC (4). However, because of multiple mechanism of CBD there are some circumstances where CBD may actually enhance the effects of the THC (see reference 4).
CBD has a broad pharmacological profile, including interactions with several receptors known to regulate fear and anxiety-related behaviors, specifically the cannabinoid type 1 receptor (CB1R), the serotonin 5-HT1A receptor, and the transient receptor potential (TRP) vanilloid type 1 (TRPV1) receptor. (Ref 5 - review article- see also references 11, 12, 19, 21 within review article). By activating the TRPV-1 receptor, cannabidiol plays a role in the mediation of body temperature, pain perception and inflammation [6]
CBD not only elicits effects within the central nervous system (7), but also within the cardiovascular system.  The activation of adenosine receptors by CBD gives the anti-anxiety and anti-inflammatory effects of cannabidiol. Adenosine receptors are also involved in the release of dopamine and glutamate, two neurotransmitters that play major roles inside the body. (8)
GPR55 is another G protein-coupled receptor (like CB1 and CB2) which CBD acts on. CBD is a GPR55 antagonist, as University of Aberdeen scientist Ruth Ross disclosed at the 2010 conference of the International Cannabinoid Research Society in Lund, Sweden. By blocking GPR55 signaling, CBD may act to decrease both bone reabsorption and cancer cell proliferation.By blocking GPR55 signaling, CBD may act to decrease both bone reabsorption and cancer cell proliferation. (9)
 Treatment with purified cannabidiol (CBD) appears to counteract the development of experimental multiple sclerosis (MS), by targeting the PI3K/Akt/mTOR pathway similar to effects found with other cannabinoids. (10)
CBD is being studied in a disorder called dystonia. Early research suggests that taking cannabidiol daily for 6 weeks might improve dystonia by 20% to 50% in some people. But higher quality research is needed to confirm this.-- See -Open label evaluation of cannabidiol in dystonic movement disorders.
CBD in combination with Ah 9-delta-tetrahydrocannabinol (THC) been shown to be effective for improving pain, muscle-tightness, and urination frequency in people with MS. (12)
CBD being studied as an antipsychotic "... Results show the ability of CBD to counteract psychotic symptoms and cognitive impairment associated with cannabis use as well as with acute THC administration. In addition, CBD may lower the risk for developing psychosis that is related to cannabis use. These effects are possibly mediated by opposite effects of CBD and THC on brain activity patterns in key regions implicated in the pathophysiology of schizophrenia, such as the striatum, hippocampus and prefrontal cortex. The first small-scale clinical studies with CBD treatment of patients with psychotic symptoms further confirm the potential of CBD as an effective, safe and well-tolerated antipsychotic compound, although large randomised clinical trials will be needed before this novel therapy can be introduced into clinical practice..." read more --A systematic review of the antipsychotic properties of cannabidiol in humans. See also --Cannabis extract helps reset brain function in psychosis-- Summary: "Researchers have found that a single dose of the cannabis extract cannabidiol can help reduce brain function abnormalities seen in people with psychosis. Results provide the first evidence of how cannabidiol acts in the brain to reduce psychotic symptoms."
Cannabidiol normalises positive symptom-like behaviours in (Amphetamine) kAMPH-sensitised rats-- "The AMPH-sensitisation protocol leads to the induction of a permanent hyper-dopaminergic state in limbic regions and is characterised by a behavioural phenotype that is clinically relevant to the positive symptoms of schizophrenia ..."
Cannabidiol activates the mTOR signaling cascade--..." Importantly, all the prophylactic effects of CBD on schizophrenia-like behaviours in AMPH-sensitised rats were inhibited by co-administration with the mTOR inhibitor, Torin2, and the p70s6k inhibitor, PF4708671. These neuromolecular findings led to the conclusion that a potential antipsychotic mechanism of action of CBD involves activation of the mTOR signaling cascade..." Read more --A new antipsychotic mechanism of action for cannabidiol --August 8, 2016 by Anand Gururajan.
Pharmacokinetics
The oral bioavailability of CBD is 13 to 19%, while its bioavailability via inhalation is 11 to 45% (mean 31%). The elimination half-life of CBD is 9 hours. see wikipedia
Toxicity
While Cannabidiol (CBD), has multiple pharmacological actions, including anxiolytic, antipsychotic, antiemetic and anti-inflammatory properties. little is known about its safety and side effect profile in animals and humans.( see reference 12)
Drug Companies and Food and Beverage Industry interest in Cannabidiol
Sativex (GW Pharmaceuticals, Salisbury, Wiltshire, UK--Multiple sclerosis (MS). A prescription-only nasal spray product (Sativex, GW Pharmaceuticals) containing both 9-delta-tetrahydrocannabinol (THC) and cannabidiol has been shown to be effective for improving pain, muscle-tightness, and urination frequency in people with MS. This product is used in over 25 countries outside of the United States. But there is inconsistent evidence on the effectiveness of cannabidiol for symptoms of multiple sclerosis when it is used alone. Some early research suggests that using a cannabidiol spray under the tongue might improve pain and muscle tightness, but not muscle spasms, tiredness, bladder control, mobility, or well-being and quality of life in patients with MS. (12)
Kalytera Therapuetics"The company is pioneering the use of CBD in the prevention and treatment of Graft versus Host Disease (GvHD), a disorder suffered by as much as 50 percent of bone marrow transplant patients. Clinical trials have shown CBD to be potentially efficacious in suppressing the immune-response of the graft cells while simultaneously improving the patient's ability to fight off infections, both essential for the prevention and treatment of GvHD".
Phase 2 testing underway for the development of a CBD product for the prevention of GvHD
Phase 3 clinical trials anticipated to begin in early 2019 pending Phase 2 results
Orphan Drug Designation granted in the US and Europe
Use of CBD in beer --Why CBD Infused Beer Could be the Next BIG Thing --The Long Trail Brewery in Killington, Vermont, is fast becoming one of the east coast's biggest sellers of CBD-infused beer. Oregon's Coalition Brewing, released its first CBD beer (named Two Flowers IPA)  in November 2016. In March 2018 a Massachusetts-based brewery called Down the Road Beer Co. requested permission to add CBD to its brand-new creation, Goopmassta Session IPA. Problems with several government agencies are currently producing roadblocks.. read more about these issues.
Coca-Cola Is Eyeing the Cannabis Market September 17, 2018, 7:00 AM EDT Updated on September 17, 2018, Drinks maker in talks with Aurora Cannabis, BNN Bloomberg says
CBD Coffee- is coffee infused with CBD (cannabidiol).
REFERENCES
FDA News Release - FDA approves first drug comprised of an active ingredient derived from marijuana to treat rare, severe forms of epilepsy - June 25, 2018
Gaoni Y, Mechoulam R (1966). "Hashish—VII The isomerization of cannabidiol to tetrahydrocannabinols". Tetrahedron. 22 (4), 2b. AnaLago-Fernandez et. al VanessaRedondo - New Methods for the Synthesis of Cannabidiol Derivatives , Methods in Enzymology, 2017
R. G., Pertwee1 (2008) Br J Pharmacol. The diverse CB1 and CB2 receptor pharmacology of three plant cannabinoids: Δ9-tetrahydrocannabinol, cannabidiol and Δ9-tetrahydrocannabivarin, Jan. 2008. 153(2): 199–215.
Cannabis Sciences, Cannabinoid Modulation: How CBD Negates THC -April 27,2018
Blessing E. M., et.al., Neurotherapeutics. Cannabidiol as a Potential Treatment for Anxiety Disorders 2015 Oct; 12(4): 825–836.
Costa, B., et. al., Br J Pharmacol. Vanilloid TRPV1 receptor mediates the antihyperalgesic effect of the nonpsychoactive cannabinoid, cannabidiol, in a rat model of acute inflammation. 2004 Sep; 143(2): 247–250.
Devinsky, O., et. al., Epilepsia. Cannabidiol: Pharmacology and potential therapeutic role in epilepsy and other neuropsychiatric disorders. Jun; 55(6): 791–802. 

Bih, C. I., et. al.,

Neurotherapeutics

. Molecular Targets of Cannabidiol in Neurological Disorders. 2015 Oct; 12(4): 699–730. 
Ross, R., Trends in Pharmacological Sciences. The enigmatic pharmacology of GPR55. Feb. 2009.
Jones NA, Hill AJ, Smith I, Bevan SA, Williams CM, Whalley BJ, Stephens GJ. Cannabidiol displays antiepileptiform and anti-seizure properties in vitro and in vivo. J Pharmacol Exp The2010;332:569–577.
Web MD -Cannabidiols -Use and Effectiveness
A new antipsychotic mechanism of action for cannabidiol August 8, 2016 by Anand Gururajan, Public Library of Science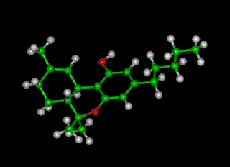 Tetrahydrocannabinol, is the main psychoactive substance found in the Cannabis plant.The pharmacological actions of the THC molecule result from its binding to the cannabinoid receptor CB1, located in the brain.

Molecules of Life Resources
SENOLYTIC AND ANTI-AGING MOLECULES
RAPAMYCIN ---The mechanistic target of rapamycin (mTOR) pathway has a central role in cell activation...
METFORMIN -- The diabetes drug metformin used by some for anti-aging may diminish benefits of aerobic exercise...

QUERCETIN-- AND WITH DASATINIB--The senolytic cocktail, dasatinib plus quercetin, which causes selective elimination of senescent cells...
FISETIN--Of the 10 flavonoids tested, fisetin was the most potent senolytic...
EGCG- The most active component of green tea....
NAD BOOSTERS --'...The cells of the old mice were indistinguishable from the young mice, after just one week of treatment...
SULFORAPHANE-- An isothiocyanate present in cruciferous vegetables activates antioxidant and anti-inflammatory responses by ...
UROLITHIN --Metabolite of Pomegranate compound with anti-aging effects passes human trial...
MITO-Q -- A water soluble fomr of CoQ10 that has excellent absorption and high bioavailability...
HONOKIOL - A bioactive natural product derived from Magnolia Bark have demonstrated ...
CURCUMIN AND ANALOGS -Recent research is focused on the design and synthesis of curcumin analogs as antiproliferative and anti-inflammatory agents...
PIPERLONGUMINE - A natural product from the Long pepper with high bioavailability...
RESVERATROL -- Shown to increase life in yeast and flatworms...
ALLICIN -- Allicin is a compound produced when garlic is crushed or chopped. ...
VITAMIN D3 -- Production of the active forms of Vitamin D are reduced by 50% as a result of an age-related decline
TOCOTRIENOL(AND WITH QUERCETIN) --Tocotrieniols have been found to exert a synergistic antitumor effect on cancer cells when given in combination....