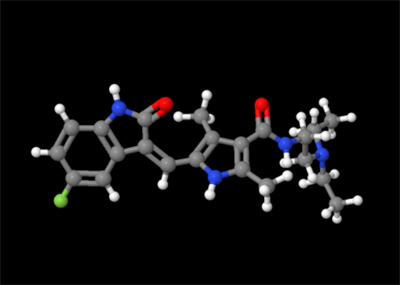 Sunitinib (marketed as Sutent by Pfizer, and previously known as SU11248) is an oral, small-molecule, multi-targeted receptor tyrosine kinase (RTK) inhibitor that was approved by the FDA for the treatment of renal cell carcinoma (RCC) and imatinib-resistant gastrointestinal stromal tumor (GIST) on January 26, 2006.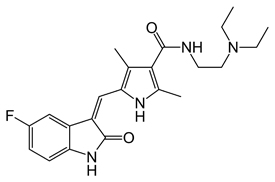 Sunitinib Chemical Formula: C₂₂H₂₇FN₄O₂
Sunitinib was the first cancer drug simultaneously approved for two different indications. The drug was discovered at SUGEN, a biotechnology company which pioneered protein kinase inhibitors. It was the third in a series of compounds including SU5416 and SU6668. The concept was of an ATP mimic that would compete with ATP for binding to the catalytic site of receptor tyrosine kinases. This concept led to the invention of many small-molecule tyrosine kinase inhibitors, including Gleevec, Sutent, Tarceva and many others.
Sunitinib inhibits cellular signaling by targeting multiple receptor tyrosine kinases (RTKs). These include all receptors for platelet-derived growth factor (PDGF-Rs) and vascular endothelial growth factor receptors (VEGFRs), which play a role in both tumor angiogenesis and tumor cell proliferation. The simultaneous inhibition of these targets therefore reduces tumor vascularization and triggers cancer cell apoptosis and thus results in tumor shrinkage.
Sunitinib also inhibits CD117 (c-KIT), the receptor tyrosine kinase that (when improperly activated by mutation) drives the majority of gastrointestinal stromal cell tumors. It has been recommended as a second-line therapy for patients whose tumors develop mutations in c-KIT that make them resistant to imatinib, or who the cannot tolerate the drug.
In addition, sunitinib binds other receptors. These include: RET, CD114 and CD135. The fact that sunitinib targets many different receptors, leads to many of its side effects such as the classic hand-foot syndrome, stomatitis, and other dermatologic toxicities.
Like RCC, GIST does not generally respond to standard chemotherapy or radiation. Imatinib was the first cancer agent proven effective for metastatic GIST and represented a major development in the treatment of this rare but challenging disease. However, approximately 20% of patients do not respond to imatinib (early or primary resistance), and among those who do respond initially, 50% develop secondary imatinib resistance and disease progression within two years. Prior to sunitinib, patients had no therapeutic option once they became resistant to imatinib.
Sunitinib offers patients with imatinib-resistant GIST a new treatment option to stop further disease progression and, in some cases, even reverse it. This was shown in a large, Phase III clinical trial in which patients who failed imatinib therapy (due to primary resistance, secondary resistance, or intolerance) were treated in a randomized and blinded fashion with either sunitinib or placebo.
Readings and References
Sunitinib: a novel tyrosine kinase inhibitor. A brief review of its therapeutic potential in the treatment of renal carcinoma and gastrointestinal stromal tumors (GIST)
New Insights into Molecular Mechanisms of Sunitinib-Associated Side Effects