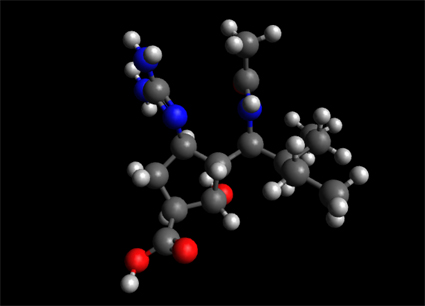 The Peramivir Molecule
For 3-D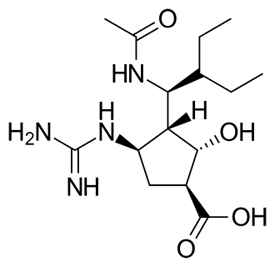 Peramivir Chemical Formula: C₁₅H₂₈N₄O₄
Peramivir (trade name Rapivab) is an antiviral drug developed by BioCryst Pharmaceuticals for the treatment of influenza. Peramivir is a neuraminidase inhibitor, acting as a transition-state analogue inhibitor of influenza neuraminidase and thereby preventing new viruses from emerging from infected cells. It is approved for intravenous administration
Peramivir is an inhibitor of the influenza neuraminidase enzyme and is used as therapy of acute symptomatic influenza A and B.  Peramivir has not been associated with serum enzyme elevations during therapy or with clinically apparent liver injury.
On 19 December 2014, the FDA approved peramivir to treat influenza infection in adults. .[1] Peramivir (Rapivab) was approved for intravenous administration in Dec 2014.[2]
Peramivir is administered as a single-dose via the intravenous route providing a valuable therapeutic alternative for critically ill patients or those unable to tolerate other administration routes.
Peramivir is highly effective against human influenza A and B isolates as well as emerging influenza virus strains with pandemic potential. 
Background 
Peramivir (per am' i vir) is a sialic acid analog and potent inhibitor of the virus-encoded neuraminidases of influenza A and B.  In several prospective clinical trials, peramivir given as a single intravenous infusion [300 to 600 mg] within 2 days of symptomatic onset, shortened the period of symptoms and viral shedding.  Peramivir was approved in the United States under an emergency use authorization during the influenza A (H1N1) epidemic in 2009.  Peramivir received standard full approval in 2014.  Current formal indications are for the treatment of acute, uncomplicated influenza A or B in adults within 2 days of symptom onset.  It is not approved for, but is widely used in, patients with complicated, life-threatening influenza.  Peramivir is used only for treatment of influenza and is not indicated for prophylaxis after a known exposure.  Peramivir is available in single use vials of 200 mg in 20 mL [10 mg/mL] under the brand name Rapivab.  The recommended dose is a single intravenous infusion of 600 mg administered over 15 minutes.  Side effects from peramivir infusions are uncommon and generally mild, including headache, nausea and vomiting.  Rare, but potentially severe adverse events include anaphylaxis and Stevens Johnson syndrome.  Recommendations for treatment and prophylaxis of influenza in the United States change frequently in response to changes in the circulating influenza strains and antiviral resistance patterns.  Regularly updated recommendations are available from the Centers for Disease Control and Prevention at: 
https://www.cdc.gov/flu/
.
Hepatotoxicity 
Despite widespread use, there is little evidence that peramivir, when given as recommended as a single intravenous infusion, is associated with liver injury, either in the form of serum enzyme elevations or clinically apparent liver disease.  A proportion of patients with influenza may have minor serum enzyme elevations during the acute illness, but these appear to be independent of therapy and are not exacerbated by peramivir.
Mechanism of Injury 
The mechanism by which peramivir might cause liver injury is unknown.  Peramivir is not significantly metabolized in humans and 90% is excreted unchanged in the urine.  Peramivir is not a substrate for the cytochrome P450 enzyme system and demonstrates no significant drug-drug interactions.  Peramivir is typically given as a single intravenous infusion, and the brief exposure and minimal hepatic metabolism may account for the absence of hepatotoxicity. 
Source: LIverTox Nih

References
FDA: FDA approves Rapivab to treat flu infection (22 December 2014) (accessed 1 March 2015)